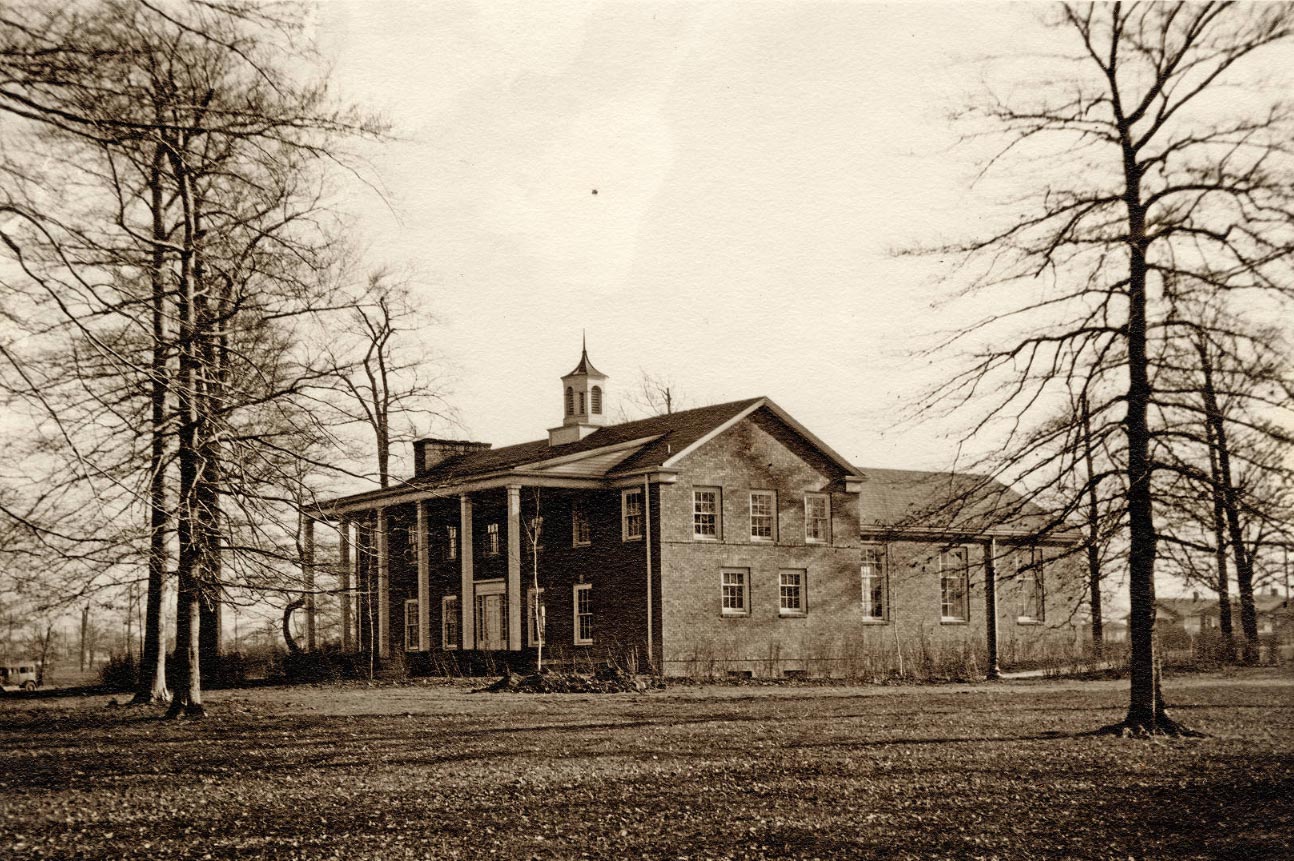 The Christian Park Community House circa 1930.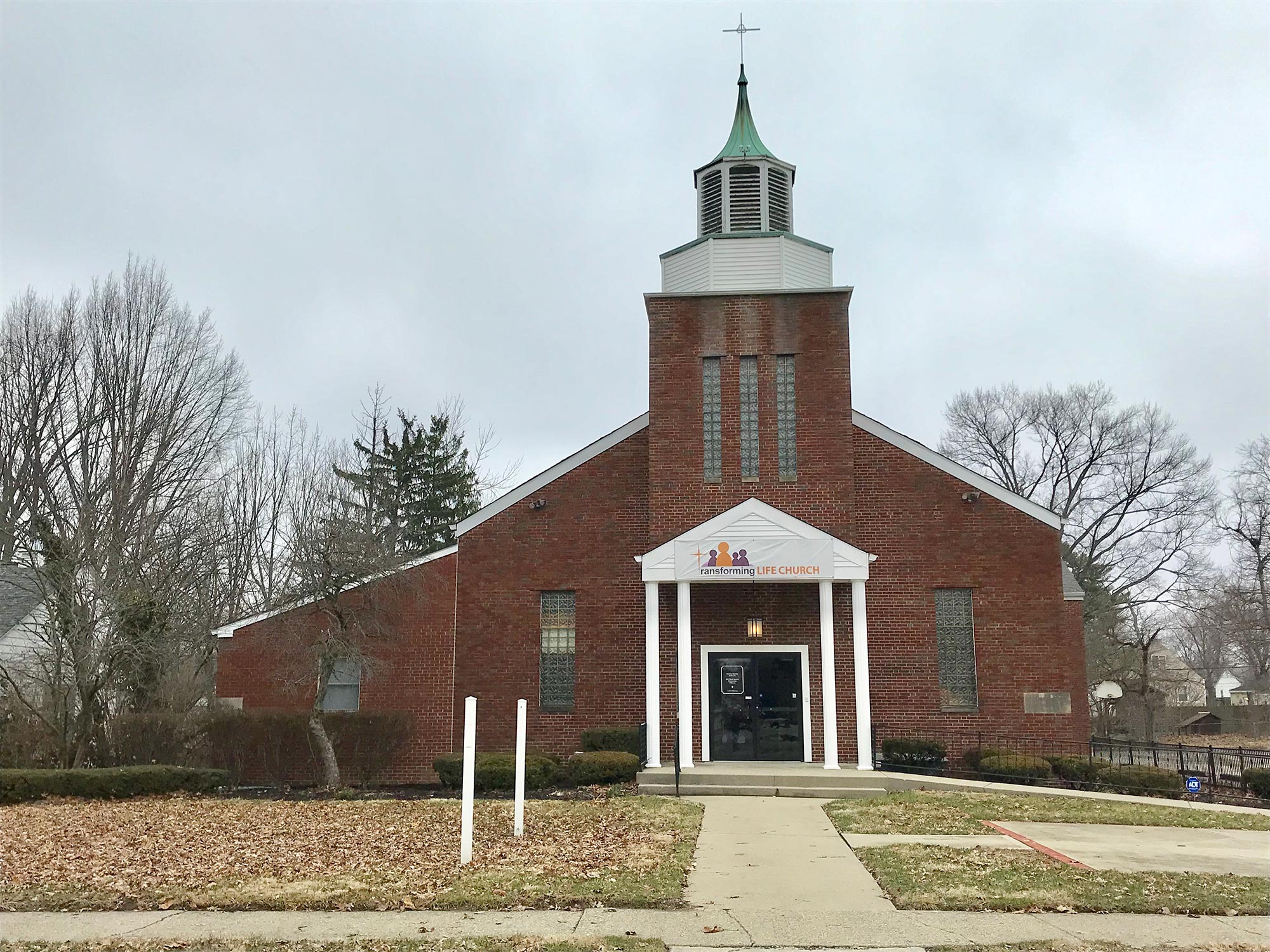 Formerly the home of Christian Park Reformed Church, a Dutch congregation, now home to Transforming Life Church.
Dutch Population in Indianapolis

Christian Park was important to Indianapolis' small Dutch population (300 persons in 1910, 203 in 1980). In 1911, 17 families formed the First Holland Reformed Church. They renamed their congregation Christian Park Reformed Church when they built their new home on Wentworth Boulevard in 1948. The church is now home to Transforming Life Church. (Source: Encyclopedia of Indianapolis)
Early History of Christian Park
In 1921, there were few homes in Christian Park. There were clusters of homes built near the intersection of Washington Street and Sherman Drive, as well as along Emerson Avenue. However, most of the area now known as the Christian Park neighborhood was a large plot of land almost entirely owned by the Christian family, prominent contractors in Indianapolis who built several landmarks, including Benjamin Harrison's home.
The park itself was donated to the City of Indianapolis by Dr. Wilmer F. Christian Jr. in 1921. The 40 acre gift was named in honor of his mother, Margaret Christian. The rest of their property was not platted until 1923. This subdivision, north of the park and south of the Pennsylvania Railroad, was called Christian Park Heights.
After Christian Park was platted, homes still needed to be built. Home construction began in earnest in 1925, when 61 homes were built. 261 homes were built in the 1920s, but construction slowed significantly during the Great Depression. Building continued again in 1940 and lasted throughout the 1940s and 1950s (except for a slowdown in the mid-1940s, probably related to difficulty in acquiring building supplies during World War II).
Because Christian Park was platted in the 1920s, its streets are based on a grid pattern. (Later developments tended to have curving street patterns.) However, because the area was mostly developed in the 1940s and 1950s, its architecture bears similarity to early suburbs, like Levittown, New York. Many homes are small Cape Cods like those found in what Dolores Hayden calls "sitcom suburbs" (Building Suburbia, 2003). Local neighborhoods with similar housing stock include Hawthorne Manor and Ritter Park (just north of Community East Hospital).
Had the Great Depression not interrupted development, its possible the architectural style could have been more typical of the small bungalows available from mail-order home kits like those sold by Sears and Roebuck. Instead, the neighborhood has a distinctly 1950s character, different from its older neighbors like Irvington to the east and Tuxedo Park to the north.
<p class='chartTitle'><!-- [et_pb_line_break_holder] -->Most development in Christian Park was after 1940.<!-- [et_pb_line_break_holder] --></p><!-- [et_pb_line_break_holder] --><p class='chartSubtitle'>Number of homes built by decade<!-- [et_pb_line_break_holder] --></p><!-- [et_pb_line_break_holder] --><iframe title="Christian Park Home Building by Decade" aria-label="Column Chart" id="datawrapper-chart-myIaK" src="//datawrapper.dwcdn.net/myIaK/1/" scrolling="no" frameborder="0" style="width: 0; min-width: 100% !important;" height="400"></iframe><script type="text/javascript">!function(){"use strict";window.addEventListener("message",function(a){if(void 0!==a.data["datawrapper-height"])for(var t in a.data["datawrapper-height"]){var e=document.getElementById("datawrapper-chart-"+t);e&&(e.style.height=a.data["datawrapper-height"][t]+"px")}})}();</script>
<p class='chartTitle'><!-- [et_pb_line_break_holder] --> Development in Christian Park began after platting in 1923, but stalled during the depression.<!-- [et_pb_line_break_holder] --></p><!-- [et_pb_line_break_holder] --><p class='chartSubtitle'>Number of homes built by year<!-- [et_pb_line_break_holder] --></p><!-- [et_pb_line_break_holder] --><iframe title="Christian Park Home Building 1921-1950" aria-label="Interactive area chart" id="datawrapper-chart-9Ti5V" src="//datawrapper.dwcdn.net/9Ti5V/2/" scrolling="no" frameborder="0" style="width: 0; min-width: 100% !important;" height="400"></iframe><script type="text/javascript">!function(){"use strict";window.addEventListener("message",function(a){if(void 0!==a.data["datawrapper-height"])for(var t in a.data["datawrapper-height"]){var e=document.getElementById("datawrapper-chart-"+t);e&&(e.style.height=a.data["datawrapper-height"][t]+"px")}})}();</script>
Platting Christian Park Heights
Scroll through the images to see the Christian family's land transform into the Christian Park Neighborhood.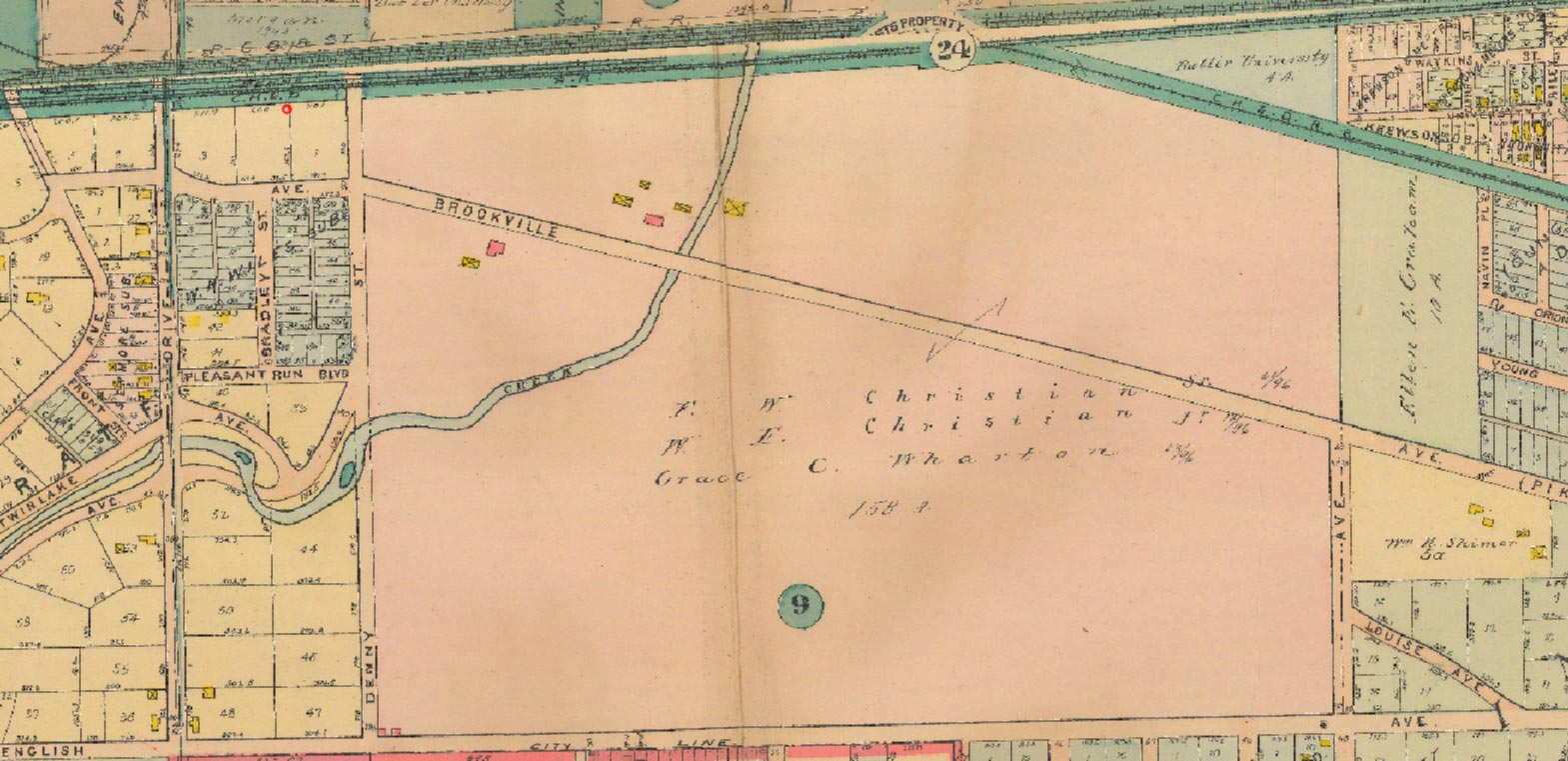 1916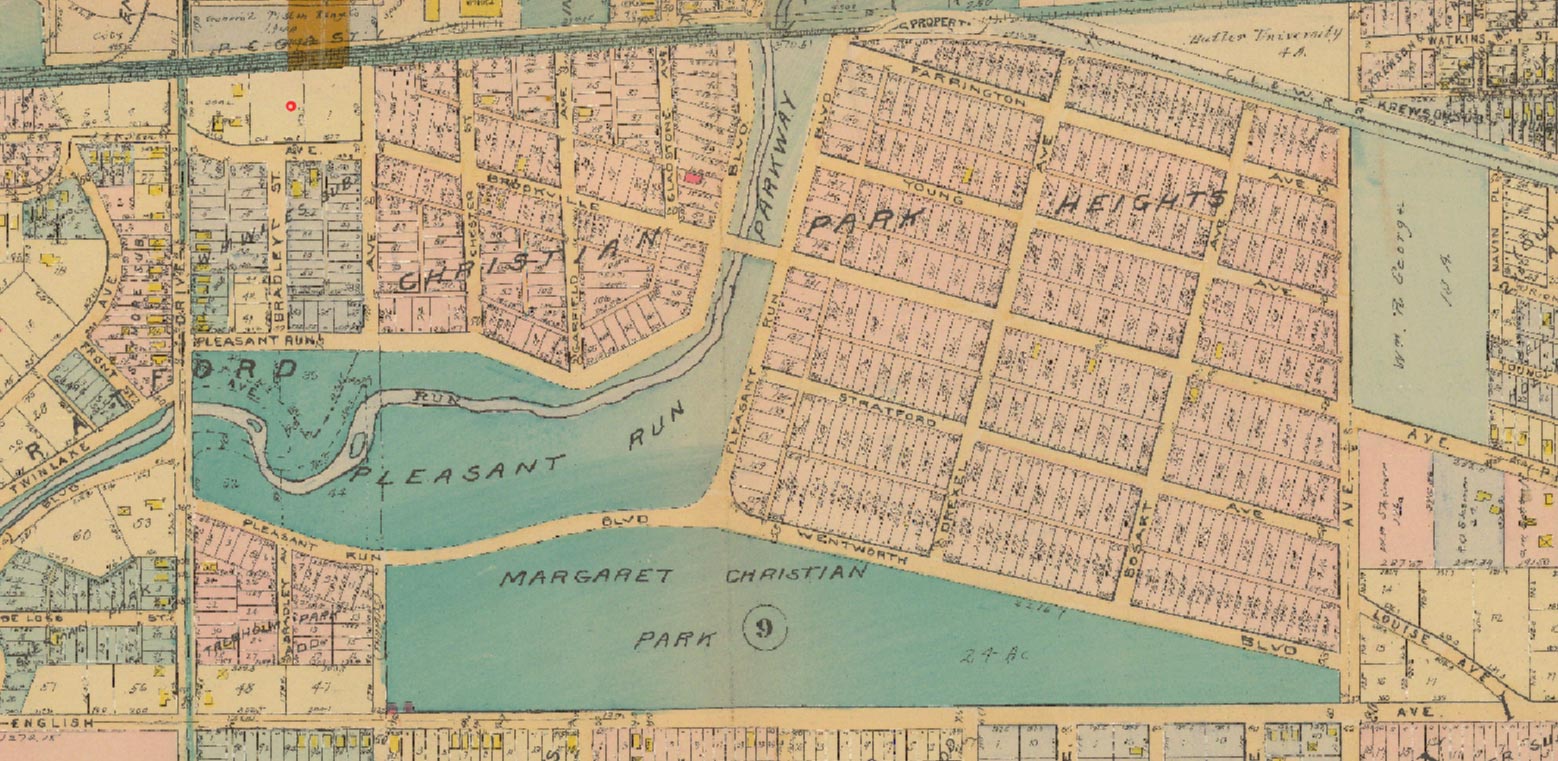 1927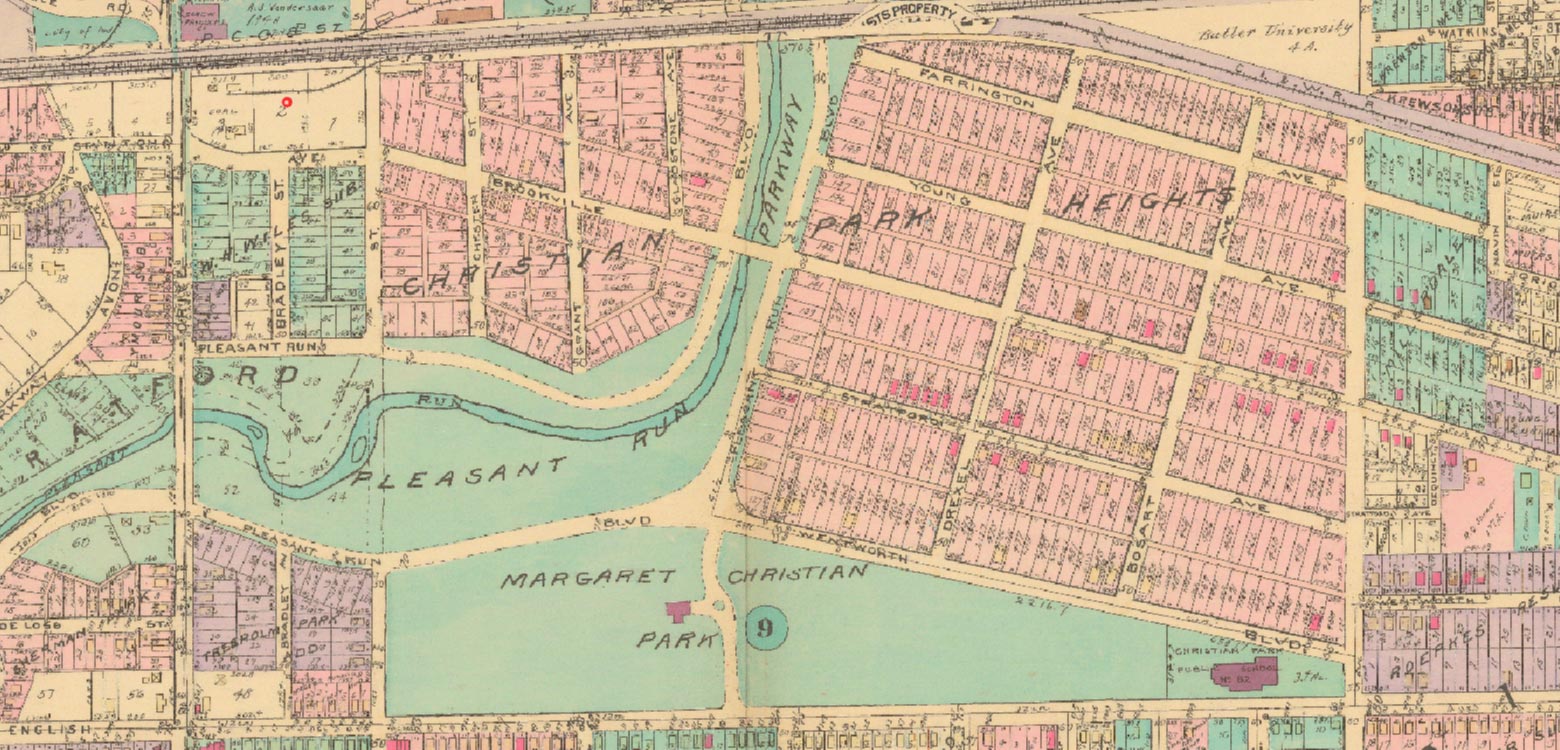 1941
Source: <a href="maps.indy.gov">https://maps.indy.gov</a>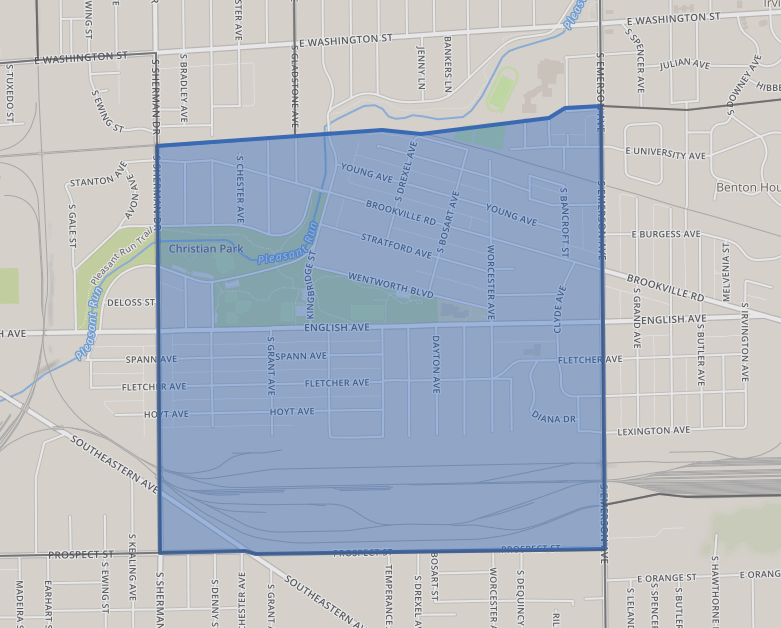 Tract 3555.00 matches the boundaries of the Christian Park neighborhood closely. This tract spans from the former Pennsylvania Railroad to the north to Prospect Street to the south, and from Emerson Avenue to the east to Sherman Drive to the west. 
An interactive dashboard with data about Christian Park.
Christian Park 1970-2016
By 1970, there were 4,844 people in the census tract that makes up most of Christian Park. This was a working class, all-white neighborhood. The average family earned $11,310 per year ($66,000 in 2016 USD), which is lower than two-thirds of other census tracts in Central Indiana. (Region-wide, the average family earned $69,000 in 2016 USD). Four percent of the neighborhood had a bachelor's degree, compared with 10 percent of Central Indiana.
The 1970 census found 2,254 workers living in the area. Most of these workers were clerical, craftsmen, or equipment operators. They worked mostly in in manufacturing (736 workers) and retail (441 workers). Some workers (266) were employed in professional sources.
The neighborhood was 100 percent white in 1970. In fact, in 1923 the plats were advertised with the guarantee "that no lots are sold except to white people." (Indianapolis News, May 19, 1923) This racial exclusivity continued even after such measures were declared unconstitutional. In fact, the tract remained at least 97 percent white through the 2000 census.
It wasn't until after 2000 that the population of Christian Park began to diversify. By 2016, one quarter of neighborhood residents were people of color. Still, only four percent of the neighborhood has a bachelor's degree, while region-wide, that rate has climbed to 33 percent. Income has fallen in real dollars (2016 USD), from $66,000 in 1970 to $44,000 in 2016.
The population has fallen, but less drastically than some nearby neighborhoods. Population fell 25 percent between 1970 and 2016 (from 4,844 to 3,619), while in nearby Twin-Aire, Tuxedo Park, and Bosart Brown, population fell 30-50 percent.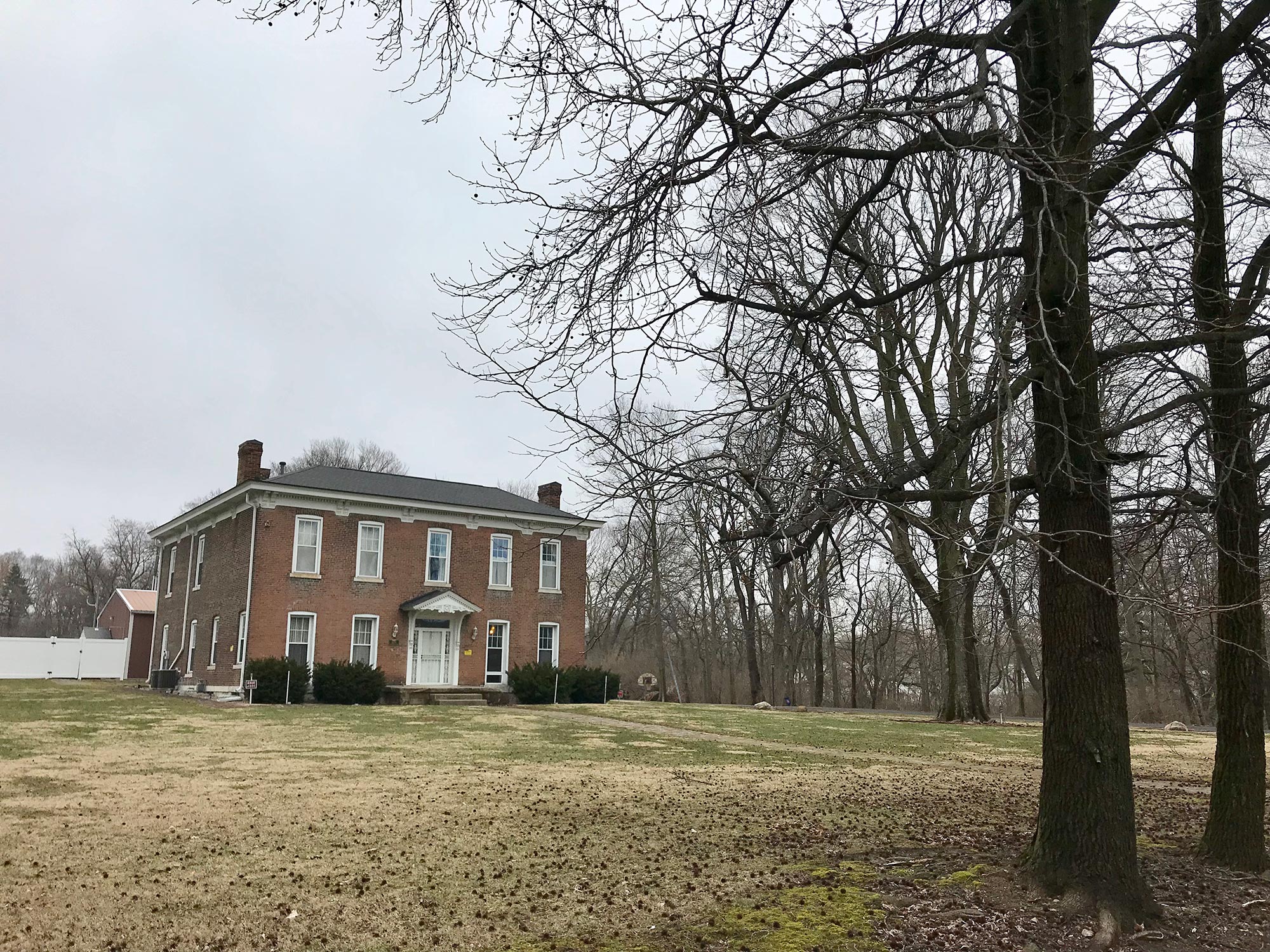 The Moore-Christian House, the original farmhouse for the Christian Family's property is visible in the 1916 Baist Atlas and still exists today alongside Pleasant Run.
Current Demographic Trends
Southeast side becoming key Latino neighborhood
From 2000, when Christian Park was 97 percent white, to 2010, the Latino population in this census tract grew from 238 to 577. Christian Park now has a higher Latino population than the average Indianapolis neighborhood. About 13 percent of households speak Spanish, compared to 8 percent in Indianapolis overall. Just to the west, in Twin Aire, 25 percent of the neighborhood speaks Spanish. In fact, this is one of the five highest concentrations of Spanish-speaking households in the county. (The others are 34th Street and Georgetown Road, 10th Street and Lynhurst Drive, Washington Street and Belmont Avenue, and 46th Street and Post Road.)
On the border between these neighborhoods lies the intersection of Sherman Drive and English Avenue, an important node for Latino-owned businesses on the east side of Indianapolis, including Delicias la Chocola and El Pollo Alegre.
Home ownership falling, but higher among seniors
Home ownership has been falling in Christian Park, from 78 percent in 2000 to 53 percent in 2016. Traditionally, the neighborhood has had higher home ownership rates than Indianapolis overall. (In 2000, 59 percent of Indianapolis households owned their home.)
This fall in home ownership affected households of all races. There are 26 percent fewer white home owners, 41 percent fewer Latino home owners, and 100 percent fewer black home owners. (It is estimated that all black households in the neighborhood are now renters.)
<p class='chartTitle'><!-- [et_pb_line_break_holder] --> Home ownership fell sharply for ages 25-34 and 60-64<!-- [et_pb_line_break_holder] --></p><!-- [et_pb_line_break_holder] --><p class='chartSubtitle'><!-- [et_pb_line_break_holder] --> Change in Home Ownership Rates by Age, 2010 to 2017<!-- [et_pb_line_break_holder] --></p><!-- [et_pb_line_break_holder] --><iframe title="Declining Home Ownership by Age" aria-label="Range Plot" id="datawrapper-chart-PJKCM" src="//datawrapper.dwcdn.net/PJKCM/1/" scrolling="no" frameborder="0" style="width: 0; min-width: 100% !important;" height="295"></iframe><script type="text/javascript">!function(){"use strict";window.addEventListener("message",function(a){if(void 0!==a.data["datawrapper-height"])for(var t in a.data["datawrapper-height"]){var e=document.getElementById("datawrapper-chart-"+t);e&&(e.style.height=a.data["datawrapper-height"][t]+"px")}})}();</script>
Home ownership declined for most age groups, but fell dramatically for young adults and those nearing retirement age. In 2010, two thirds of householders age 25-34 owned their home. Now only 14 percent are homeowners. Home ownership among those age 60-64 fell from 100 percent to 47 percent. In this neighborhood, householders in these age categories are less likely to own a home than their peers in the rest of Indianapolis.
The neighborhood has a high concentration of middle-aged residents, compared to the average Indianapolis neighborhood. In the city overall, 24.5 percent of residents are age 45-64, but in Christian Park (tract 3555), 31.8 percent of residents are 45-64 years old. This means that, while Christian Park does not have a particularly high senior population now, it will soon, as the large middle-aged population grows older.
As these residents age, they may need more assistance in order to remain in their homes and deal with routine maintenance. While home ownership rates in Christian Park have been falling, rates for seniors are still very high. Of the neighborhood's seniors, 85 percent own their home, compared to 74 percent in Indianapolis overall.
<p class='chartTitle'><!-- [et_pb_line_break_holder] --> Christian Park households are more likely to own their home than Indy residents overall, especially older residents.<!-- [et_pb_line_break_holder] --></p><!-- [et_pb_line_break_holder] --><p class='chartSubtitle'><!-- [et_pb_line_break_holder] --> Home Ownership Rates by Age<!-- [et_pb_line_break_holder] --></p><!-- [et_pb_line_break_holder] --><iframe title="Home ownership rates by age Christian Park" aria-label="Split Bars" id="datawrapper-chart-WMMRP" src="//datawrapper.dwcdn.net/WMMRP/2/" scrolling="no" frameborder="0" style="width: 0; min-width: 100% !important;" height="282"></iframe><script type="text/javascript">!function(){"use strict";window.addEventListener("message",function(a){if(void 0!==a.data["datawrapper-height"])for(var t in a.data["datawrapper-height"]){var e=document.getElementById("datawrapper-chart-"+t);e&&(e.style.height=a.data["datawrapper-height"][t]+"px")}})}();</script>
Many Christian Park residents are renting now instead of buying, which could be linked to falling incomes in the neighborhood. At the same time, a concentration of middle-aged homeowners could soon face the challenges of home ownership during old age. If they follow the pattern of other seniors in the neighborhood, they are likely to continue to own their own home.
This neighborhood is also more diverse than it was two decades ago, with an estimated 130 Latino households. Most of these households are young adults, and they help to make up a larger Latino community on the south east side of Indianapolis.
In the coming years, this 1940s and 50s neighborhood will grapple with 21st century demographic changes, like increasing diversity and aging in place.
See How Your Neighborhood Has Changed
Find more interactive content from our series on neighborhood change.
No Results Found
The page you requested could not be found. Try refining your search, or use the navigation above to locate the post.