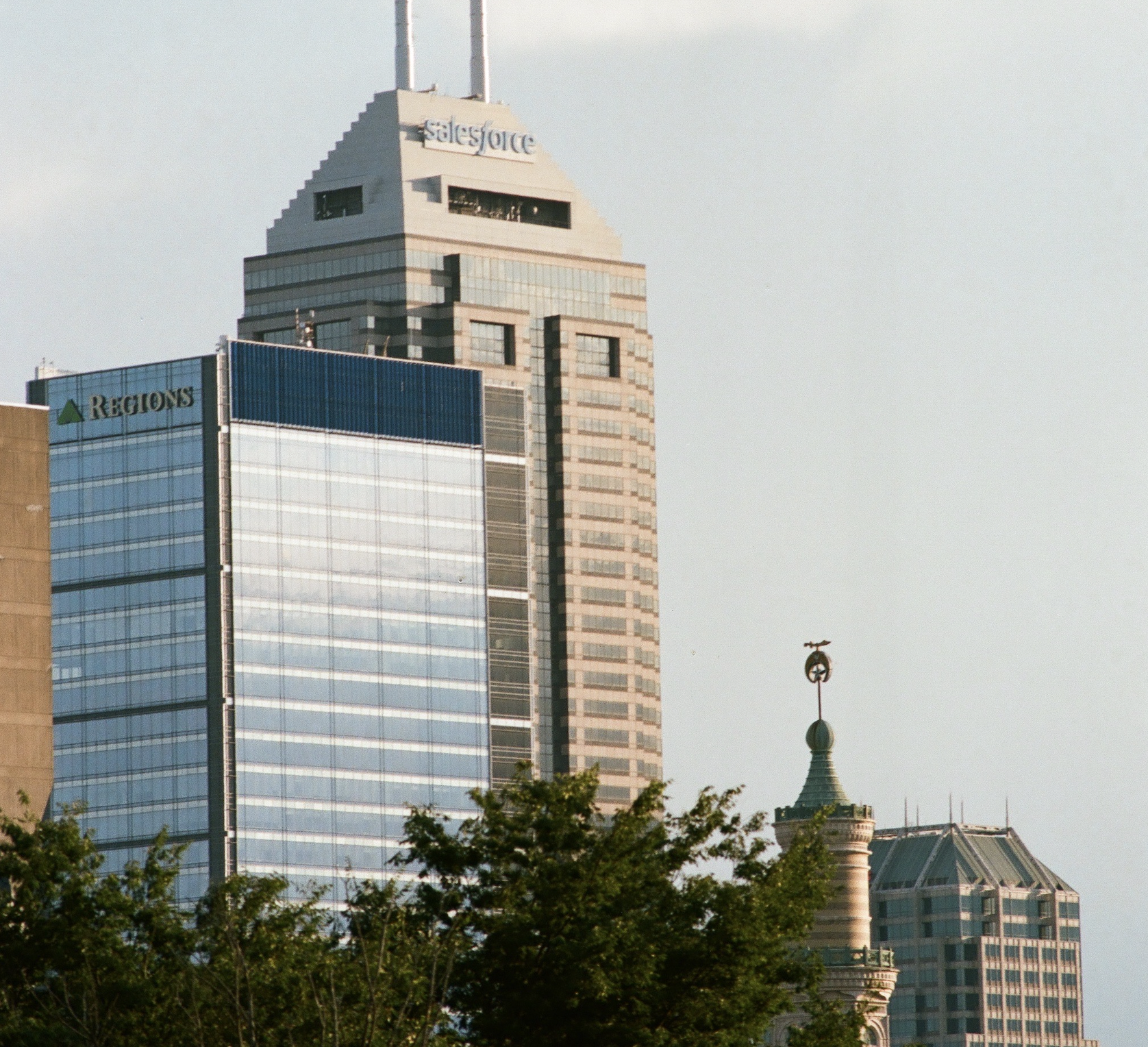 How is Indianapolis Doing?
A monthly look at how the Indianapolis metro area is recovering and emerging from the Covid-19 pandemic
The COVID-19 pandemic has impacted nearly every aspect of life in American cities for the past two years. Indianapolis is no exception. Beyond the devastating loss of life and lingering health effects for our friends and neighbors, the pandemic upended our economy, daily routines, and many other facets of life.
This project tracks the ongoing pandemic recovery in Indianapolis with regularly updated visualizations on some of the most pressing and challenging issues in our community.
This project was inspired by The City, based in New York City.
Unemployment
The COVID-19 pandemic created one of the biggest global economic downturns in history. The stock market crash of 2020, supply chain disruptions, and general economic uncertainty led to layoffs at an almost unprecedented rate. The overall US unemployment rate peaked at 14.7 percent in March 2020 near the pandemic's beginning and has just recently returned to the pre-pandemic (February 2020) rate of around 3.5 percent.
Through much of the recovery, Indianapolis' unemployment rate was lower than the nation's. It increased in spring 2022, but this was because more people joined the labor force, not because people lost jobs.
LATEST UPDATE: 03/27/23
Indianapolis unemployment rate increased in February , increasing from 3% to 3.1% while the nationwide rate held relatively steady.
Unemployment Rates since January 2019
Indianapolis and United States
Employed Persons
The recovery from the unemployment high of 14 percent in April 2020 was slow and steady. Indianapolis gained jobs each month between May and August of 2020. Job growth stalled during the winter of 2020-2021, but was steady during the spring and summer of 2021, finally hitting pre-pandemic levels in July 2021. However, another decline occurred in September 2021 as the Delta variant caused a peak in COVID-19 cases, resulting in 3,000 lost jobs.
Since then, despite the Omicron variant causing the highest case number peak in the winter of 2021-2022, job growth has been steady.

LATEST UPDATE: 3/25/2023
The latest data from BLS shows Indiananpolis added 203 jobs in January 2023
Monthly number of employed people compared to February 2020
Indianapolis
Monthly change in employed people
Indianapolis
Employment in Key Sectors
Not all sectors of the economy were impacted equally. Many people decided to stay home more than they had before COVID-19, causing sectors like online shopping to boom while sectors like hotels and air travel ('Leisure and Hospitality' on the chart) struggled.
If you'd like to know more about the sectors and the types of jobs included in each, you can look at the groupings here.
December 2022 Employment in Key Sectors Compared to Pre-Pandemic 5-Year Average
Indianapolis Metro Area
Housing Prices
Even if you were not house hunting during the past few years, you have no doubt heard about the difficulty in finding affordable housing. It is a nationwide problem that hit Indianapolis hard. The median home price in the Indianapolis metro area increased by over $60,000 between 2020 and 2022. Prices have become so high that for the first time since the Federal Reserve Bank of Atlanta began their affordability index in 2014, the Indianapolis Metro Area has been designated as an "unaffordable" housing market.
LATEST UPDATE: 03/27/23
For the first time in nearly a year, the median home price in the Indianapolis metro area declined in August. Since then it has declined by $8604.
Median Home Price
Indianapolis Metro Area
How Long are Houses on the Market?
In addition to rising prices, homes are also listed on the market for much shorter periods than in previous years. While the specific number of days is highly cyclical, the downward trend both nationwide and in Indianapolis is clear. 
LATEST UPDATE: 2/23/23
Another slight increase in median days on market for both the Indianapolis area and nationally.
Median days on market increased from 55 to 67 days in Indianapolis, while increasing from 67 to 75 days nationwide.
Median Days on Market for Residential Property Listings
Indianapolis Metro Area
Monthly Rent
Not everyone owns a home. One third of Central Indiana households rent, and rent has also been increasing over the past few years, albeit at a much slower pace than home prices. Rent increased 1.2% per month in 2021, compared to just 0.3% per month in 2020.
If you'd like to compare rents in Central Indiana to other metros, see Apartment List.
LATEST UPDATE: 3/25/23
Central Indiana average monthly rent held mostly steady in February for the eighth straight month
Average Monthly Rent
Indianapolis Metro Area
Gas Prices
The discussion about inflation in the U.S. economy has dominated news coverage during the pandemic and has topped the list of American's concerns recently, as tracked by Gallup. Inflation is driven by pandemic relief funding, disrupted supply chains, and Russia's attack on Ukraine. For many consumers, gas prices were the most obvious sign of price increases.
Gas prices have risen everywhere in the country, but in Indiana our especially high gas taxes have combined with inflation to produce particularly high prices. Recent months have finally shown a decline in prices.
The figures below show prices in Indianapolis compared to one month and one year ago at this same time.
Gas Prices
Indianapolis, as of 02/23/23
LATEST UPDATE: 03/25/23
After a period of steady increase, gas prices have begun to decline again in Indianapolis. The current average price is slightly lower than this time last month.
Public Transit Usage
Public transit ridership has been down nationwide since the onset of the COVID-19 pandemic. Fears of contracting the virus from sitting in close proximity with other riders, the increase of work-from-home arrangements, and other potential factors pushed transit agencies into a new era of public transportation. In Indianapolis, IndyGo is in the midst of major upgrades to the transit system through the installation of Bus Rapid Transit (BRT) lines. Below, you can see IndyGo ridership systemwide and by route compared to both the particular month in 2019 and also year-to-date compared to this point in 2019.
Although ridership has dipped for nearly every route, the Red Line has seen an increase since 2020. (The Red Line opened in September 2019.) 
LATEST UPDATE: 3/9/23
January 2023 saw a large jump in ridership compared to previous years with 476,676 trips recorded. This was compared to 381,292 in 2022 and 377,267 in 2021.
*Individual Route ridership data is not publicly available from IndyGo for December 2019 and 2020
Individual Route Ridership
Office Occupancy
By now you've probably read an article or two about how downtown office buildings are struggling to return to pre-pandemic levels of usage. Kastle Systems, an office facility security provider, tracks how many people are swiping their key cards to enter office buildings in major metro areas. Nationwide, the weekly average share of employees going into the office has hovered around 40 to 45 percent of pre-pandemic levels.
While we don't have that data available for Indianapolis, real estate firm Cushman & Wakefield does publish quarterly reports on the office building market for our metro area. Their reports track two key indicators for the health of the office market: vacancy rate and net absorption rate. Vacancy rate is the percentage of office building square feet that could be occupied, but is not. Net absorption shows whether there has been more square footage leased than vacated, resulting in a positive rate. A negative net absorption rate means that more square footage has been vacated than leased.
Indianapolis Metro Area: Office Real Estate Indicators
LATEST UPDATE: 3/25/23
In Q3 2022, net absorption was -58K SqF in the Indy market and -20K SqF in the downtown market. Despite strong leasing activity downtown, current tenants vacating their space offset and outpaced any new leases.
Homicides
Murders increased 27% in 2020 nationwide, the largest single year jump in over 60 years. Then, in 2021, they increased again. In 2022, homicides have actually been declining around the country. Here in Indianapolis, there has been an intense focus on the murder rate and increase in violent crime locally. 2021 had the highest number of homicides in the city's history, but things started to trend downward in 2022.
*Previous versions of these charts were sourced from IndyStar, which is no longer tracking the total number of homicides by year. As a result, we now source from WRTV, which has slightly different numbers but trends remain the same.
LATEST UPDATE: 3/27/2023
Indianapolis started the year 2023 with 32 homicides, slightly lower than monthly average of 2022 (19.1) and significantly lower than 2021 (23.3). Still, the number of homicides was significantly higher than years 2018 and 2019.
Homicides by Year
IMPD Jurisdiction
Homicides, Monthly Average
IMPD Jurisdiction
Pandemic Relief Funding
Indianapolis received $420 million in relief from from the American Rescue Plan Act. $91 million was spent on replacing lost revenue due to the pandemic and $27 million will be spent on property tax relief for homeowners. The remaining $303 million will be spent on anti-violence programs, economic recovery, and neighborhood investments.
For a list of some of the programs that will be funded, see this budget book that was presented to City-County Council in August 2022.
The chart below shows the total relief spending so far from the American Rescue Plan Act. Obligated funding is committed to a program but not spent. Spent funding represents actual program expenditures. As more information becomes available, we will add data on spending categories and impacts.
Cumulative pandemic relief spending
Quarterly amount represents a cumulative total since the beginning of the program
LATEST UPDATE: 3/9/23
Through the third quarter of 2022, $88.5 million has been obligated and $32 million has been spent for programs funded by the American Rescue Plan Act.
Total spending by category
Cumulative spending at the end of each quarter
Subscribe for updates
We will continue to update this page as new data becomes available and add metrics important to the city's recovery over time. If you'd like to receive monthly updates on each of these measures in your email inbox, subscribe below.