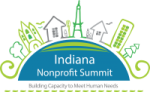 NOW OPEN: Registration for 2014 Indiana Nonprofit Summit! 
Registration for the 2014 Indiana Nonprofit Summit is now open! The conference will be held on October 1-2 on the campus of Indiana University-Purdue University Indianapolis (IUPUI). Here is a look at the planned two-day program:
Human Needs Summit: October 1, 8:30 a.m.- 4:00 p.m.
The only event of its type in Indiana each year, the Human Needs Summit brings practitioners, researchers and thought leaders together in a series of collaborative working sessions to discuss trends, share best practices and brainstorm solutions related to the state's most pressing areas of need in service sectors like Health, Education, Hunger and Housing.
Skill-building Workshops: October 2, 8:30 a.m.- 4:30 p.m.
An entire day of Skill-Building Workshops will provide vital opportunities for professional and organizational development along six tracks: Funding/Finance, Marketing/Communications, Collaboration, Volunteerism, Strategic Planning, and Governance. For a list of confirmed break-our sessions, please visit our website! The Indiana Nonprofit Summit was formerly known as the Indiana Governor's Conference.
We look forward to seeing you at this year's Indiana Nonprofit Summit. For more information or to register for the event, please visit our website!