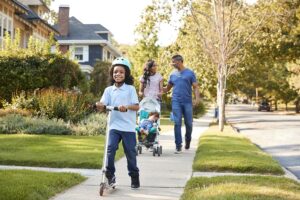 The Polis Center at IUPUI, WFYI, and SAVI are collaboratively expanding the community's understanding of equity and social justice issues that exist geographically and demographically to guide urgent and emerging funding, policy, and programmatic decisions. The aim is to ensure that decisions being made now are thoughtful and data-informed, so these gaps start to close. Data is critical to precisely identify where resources are needed most by residents, increase awareness, and develop a community-wide strategy to address the underlying causes and longer-term challenges our communities face in coming months and years.
They are researching and developing a series of reports, articles, community conversations, workshops, news reports, and dashboards to provide local context in a variety of areas e.g., life expectancy, aging, health disparities, education, public safety, criminal justice, and food security.
They are exploring inequities in economic opportunity by race, gender, and neighborhood in Central Indiana; studying disparities in key facets of quality of life; identifying community assets and opportunities available to residents in impacted communities; reporting on lived experiences of residents; and engaging diverse audiences in conversations that lead to new alliances and result in meaningful change. As created, Polis Center research will be held in the SAVI Equity Data and Information Hub for users to access easily.
WFYI's journalists investigate the intersections of people and policy. It produces daily and in-depth stories on systems meant to serve everyone — where they succeed, where they fail and efforts to make them stronger. They are especially interested in how these systems interact with race, class, ability, religion, gender, and LGBTQ identity in our community. Current news reports include worsening life expectancy in many Indianapolis area ZIP codes since 2013; a look at one neighborhood which suffered economically with business closures and a new collaboration between Cook Medical and Goodwill to develop the community; efforts to end homelessness; root causes of violence; and how schools plan to use the temporary federal funding from stimulus bills to equalize access and outcomes for students.
These ambitious goals to increase awareness of and inform policies about disparities by race, gender, and neighborhood in Central Indiana aim to result in meaningful change. If we all pitch in, the impact will be significant.