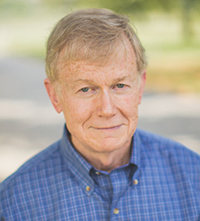 The Polis Center at IUPUI—a nationally-recognized and dynamic urban-centered learning environment which excels in partnerships, real-world application, and winning solutions for communities—announces that founding Executive Director David Bodenhamer is retiring after 32 years with IUPUI. He also is Professor of History and Informatics. Sharon Kandris, Polis Center Associate Director and Community Informatics Director has been named interim executive director, effective January 1, 2022.
Since its inception, Bodenhamer has helped shape the center's core values and direction, resulting in well-recognized projects including the 26-year old SAVI Community Information System (https://www.savi.org/), which is the nation's earliest, largest, and most comprehensive system; the printed 1994 Encyclopedia of Indianapolis; the recently launched digital Encyclopedia of Indianapolis (https://indyencyclopedia.org/); the 1996-2002 Religion and Urban Culture (RUC) undertaking about the role of religion in relation to urban communities; and a current RUC study (RUC 2.0) which seeks to understand how Indianapolis congregations are responding to the dramatic changes of the past several years. He also has supported the center's active portfolio of work in applying geographic information systems (GIS) to issues of environmental and social resiliency in Indiana and elsewhere. The center engages in a wide array of community development and quality-of life efforts, resiliency, and population health management through geospatial technologies which integrate, manage, and visualize information on the places where we live and work. Bodenhamer also has worked internationally to develop a new field, spatial humanities, that uses geospatial technologies to understand the development and meaning of social and cultural change.
Bodenhamer will continue to work with several initiatives as a consultant, including phase 2 of the digital Encyclopedia of Indianapolis and efforts to understand the role of nonprofits and congregations in Central Indiana. He also will collaborate with UK colleagues in digital humanities and computer science on a newly funded research project to link memory and place within an innovative immersive environment known as deep mapping.
IU School of Informatics and Computing—IUPUI (SoIC) Executive Associate Dean Mathew Palakal says, "David Bodenhamer has been a key member of our team who helped The Polis Center develop many opportunities for effective university-government-community-healthcare partnerships to use spatial information to improve and enhance the quality of life for Hoosiers. His vision, drive, and commitment to Polis and its partners leave the center well-placed to continue collaborating with community experts to understand the complex problems of today's world and finding potential solutions. I thank him for his leadership and vision to bring The Polis Center national visibility.
"We are pleased to appoint Sharon Kandris to the interim executive director position. She brings significant expertise to her new leadership role. With over 20 years of experience helping organizations use data and GIS to better understand their communities, Sharon directs several large community information systems covering multiple disciplines. She directs the center's community informatics area, which designs solutions to meet the data and information needs of nonprofit and community-based organizations and applies spatial technologies to analysis of local, state, and national issues. As associate director, she has played a key role in developing and promoting the strategic direction of the center and securing significant funding to advance the center's mission. We are fortunate to benefit from her experience and skills as we continue to help communities respond the demands of a rapidly changing environment."
Bodenhamer says: "Sharon is the perfect candidate to take over the center's responsibilities as interim executive director. Her broad vision, her passion for community engagement, and her strong project management skills will work well on behalf of the center's partners and IUPUI."
Kandris says: "It will be a privilege to lead the talented Polis team and build on the great work we've done the past few years. I have seen how our work positively impacts people's lives. We remain focused on supporting community health, well-being, and resiliency. We will continue working with current partners, build new relationships, and expand opportunities with the IU School of Informatics and Computing—IUPUI. I extend my gratitude to David for his remarkable leadership at Polis and the legacy he leaves with us."
More About David Bodenhamer
In addition to achievements noted above, Bodenhamer is an active researcher. He is author or editor of 13 books and has published over 50 journal articles, chapters in books, and encyclopedia articles. Bodenhamer has made more than 90 presentations, including numerous keynote addresses, to audiences on four continents on topics ranging from legal and constitutional history to the use of GIS and advanced information technologies in academic and community-based research. Among his books in American constitutional and legal history are Fair Trial: Rights of the Accused in American History (Oxford University Press, 1993), Our Rights (Oxford University Press, 2007)), The Revolutionary Constitution (Oxford University Press. 2012), and The U.S. Constitution: A Very Short Introduction (Oxford University Press, 2018).
Bodenhamer's work in the new field of spatial humanities includes The Spatial Humanities: GIS and the Future of Humanities Scholarship (Indiana University Press, 2010), Deep Maps and Spatial Narratives (Indiana University Press, 2015), and most recently, Making Deep Maps: Foundations, Approaches, and Methods (Routledge, 2021).  He also has published dozen published essays. Both books were developed with Professors John Corrigan (religious studies) and Trevor Harris (geography), collaborators in the interdisciplinary Virtual Center for Spatial Humanities (VCSH), an institutional partnership among Florida State University, West Virginia University, and IUPUI. Bodenhamer serves as co-director of the VCSH, which he created with Corrigan and Harris in 2008 to advance the field of spatial humanities. He also serves as co-general editor of the Routledge Series on Spatial Humanities; was co-editor for 14 years of the IJHAC: A Journal of the Digital Humanities (formerly the International Journal of Humanities and Arts Computing, Edinburgh University Press); and co-general editor of the Polis Center Series on Religion and Urban Culture (Indiana University Press).
Bodenhamer has an extraordinary record of attracting grant and external support for more than 30 years. From 1989 to 2020, he received grants and contracts totaling over $50 million including awards from the National Endowment for the Humanities, Lilly Endowment, National Library of Medicine, U.S. Department of Defense, U.S. Department of Commerce, U.S. Department of Education, and Fairbanks Foundation, among numerous other research and service contracts with federal, state, and local governments, not-for-profit organizations, and private corporations. During this period, The Polis Center received over $95 million in external awards, including the $50 million mentioned above.
More About Sharon Kandris
As the center's Associate Director, Kandris was integral in the development of the SAVI Coronavirus Data & Information Hub, which was nominated for the 2021 TechPoint Mira Community Impact Award celebrating people or organizations that have helped to push Indiana's tech community forward and is making a difference in Hoosier lives. The Hub also received the Special Achievement in GIS Award from the Indiana Geographic Information Council for demonstrating the power of teamwork, collaboration, and GIS to address pressing community challenges.  She led the creation of the COVID Impact Index, which received a Top Prize from the Census Bureau's Data for Good Grand Challenge. Currently, she leads development of the SAVI Equity Data and Information Hub (https://bit.ly/3DbiTGH) with input from community stakeholders. It houses content related to Central Indiana's equity in economic opportunity, environment, health, and more.
Kandris has an established reputation in neighborhood information systems and community informatics. She has consulted with nearly 20 cities across the nation on how to build a sustainable community information system and served on the executive committee of the National Neighborhood Indicators Partnership, a 29-city collaboration lead by the Urban Institute to further the development and use of neighborhood-level information systems in local policymaking and community building. Kandris has partnered on several Urban Institute cross-site studies and routinely helps community-based organizations, not-for-profits, neighborhoods, government, educators, and researchers use neighborhood data to better understand their communities and improve their decision making. She has served on several community advisory committees, provided leadership on community-wide education initiatives, and provided strategic planning and support to nonprofits and local government.