A Q&A session with SAVI's own Jay Colbert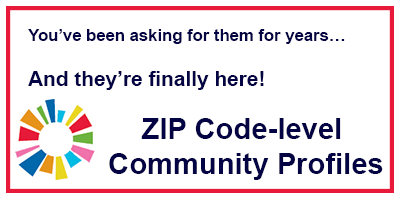 Hey Jay, what took so long?
Jay: Data consumers (you) love the idea of data by ZIP Codes. Everyone knows which ZIP Code they live in, and people often know many other ZIP Codes around. And, they aren't a bad size either: small enough to have fairly consistent populations within them but large enough to hold enough population to be relatively stable year to year allowing for time-series comparisons. But, data intermediaries (me) dislike ZIP Codes since they can change frequently and with little notice and not many data providers (them) even have data by ZIP Codes making it even more challenging.
Also, ZIP Codes aren't really even areas. According to the U.S. Postal Service they are merely an attribute of a section of a street. Even a single building (or a collection of floors in a building) can have its own ZIP Code.
Are these profiles really ZIP Codes?
Jay: Well, no, but they are close. The ZIP Code profiles actually use the Census Bureau's version of ZIP Codes called ZIP Code Tabulation Areas (ZCTA, pronounced "ziktah"). They are an approximation of ZIP Codes based on the ZIP Codes associated with individual addresses in census blocks But, they are pretty close to the real thing. For example, here are the ZIP Code and ZCTA for 46122 compared. The green is the ZCTA and the red outline is the ZIP Code.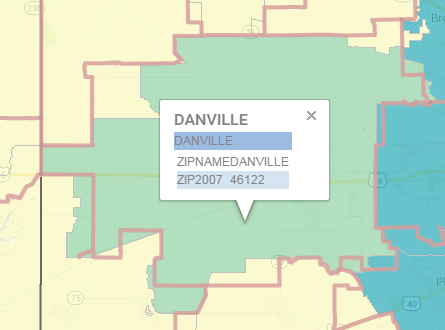 OK. So how do I get to them?
Jay: The easiest way is to hover over the Community Profiles tab (after clicking "Use SAVI"), hover over "ZIP Codes" and then select the county you are interested in.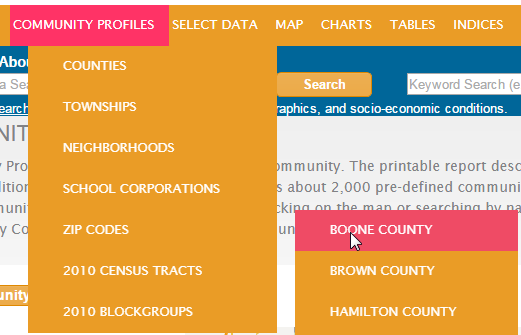 And then just click on the ZIP Code in the list that you are interested in.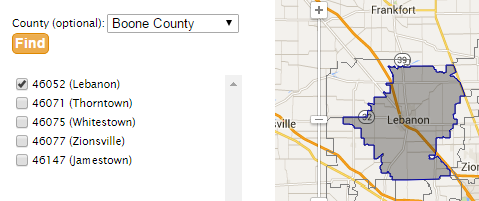 Or you can just click on the Community Profiles tab, change the community type to "ZIP Code Tabulation Areas 2010" and click on the map for your desired ZCTA then click view profile. You'll get the same charts, graphs, and tables you are used to and will get a vast majority of the variables as well. You can also select multiple ZCTAs and make a custom community profile the same as with any other geography.
Will I find ZCTAs elsewhere in SAVI?
Jay: Yes. You will see them in every corner of SAVI. Quick Info, the main SAVI map, charts, and everywhere else that you see the other geographies. Just look for "ZIP Code Tabulation Areas 2010".
Anything else?
Jay: One last thing. We don't yet have the assets tab working for ZCTAs, but look forward to that in the near future. We'll also be working on adding ZCTAs to other datasets such as crime and parcel-based property data. And finally (I guess it was two last things), did you know that ZIP Codes were introduced in 1963 and originally stood for Zoning Improvement Plan? Census introduced their ZCTAs with the 2000 Census and updated them to the current version with the 2010 Census. Take that information to your next trivia party. It's sure to wow a crowd.