The topic of charter schools is often controversial.
Consider this. The percent of students in the Indianapolis Public School Corporation enrolled in charter schools 5 years ago was 12.4%. In 2013 it increased to 20.8%. That's a 67% increase!
But IPS's increase in charter school enrollment is nominal compared to some other communities. Anderson Community School Corporation in Madison County, for example, increased by 472% between 2009 and 2013.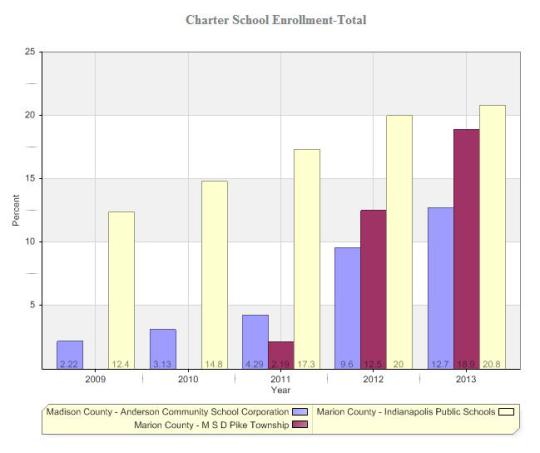 Part of the reason we've seen such significant increases in enrollment is that the number of new charter schools in Indiana is also increasing. 10 years ago (2002-2003 school year) there were 10 charter schools in the entire state. Now? There are 72.
These data can be fuel for the controversy that surrounds charter schools. Does your community see more charter schools and greater enrollment as positive trends or negative?
John Mutz, chairman of Indianapolis' charter school board, sees both sides. Benefits of charter schools include the ability to experiment with different types of teaching, including allowing children to learn at their own pace at home on their computers. Teachers can act more like coaches in the classroom. Another benefit is that charter schools can help revitalize neighborhoods. According to John Mutz,  Tindley College Prep High School in the Avondale-Meadows area has sparked a new housing development, a new YMCA, Healthnet Facility, and more.
But there are challenges to charter schools as well. One downside is that they close more often than traditional public schools. Sometimes this is due to the charter school not meeting performance measures, and other times it is due to lack of funding. The most recent example of such a closing is the International School of Columbus, which is closing this Friday after just 5 years of operation.
Want to know if there's a charter school in your neighborhood?
The SAVI Community Information System recently updated its education data. In addition to 2013 charter school data, you now have access to Advanced Placement and ACT exam data.
What are your thoughts on charter schools? Connect with us on Facebook or Twitter and tell us your opinions.