This analysis will use data from Tract 3547 because census data is available for that area, even though it does not precisely match the boundaries of the neighborhood. Tract 3547 extends to Washington Street, but St. Clair Place stops at Michigan Street. The tract ends at Keystone Avenue to the east, while the actual boundary of the St. Clair Place neighborhood is Rural Street, a few blocks further east. 
St. Clair Place exemplified the decline of early twentieth century urban neighborhoods, and now it represents common practices in nonprofit-led neighborhood redevelopment. Population boomed to 3,900 in 1940, but fell to 1,400 by 2010, while vacancy rates increased to 45 percent. Since 2010, multiple federal and local funding sources have been combined, anchored around the 2012 Super Bowl Legacy project, to address blight and redevelop properties.
In the last decade, the neighborhood has experience increased mortgage activity, housing prices, and homeownership rates. And while most of these homebuyers and homeowners are white, the neighborhood is growing more diverse. Six in ten residents are people of color. Poverty rates are improving here as well, most significantly for people of color. At the same time, the college-educated rate among adults has increased from three percent in 2010 to 13 percent in 2016.
But the difficulty in leveraging equity growth among homeowners to improve the lives of renters (94 percent of black households here are renters) shows the need for creative policies to address discrepancies in homeownership and the racial wealth gap.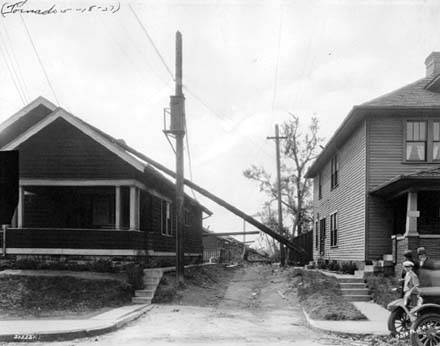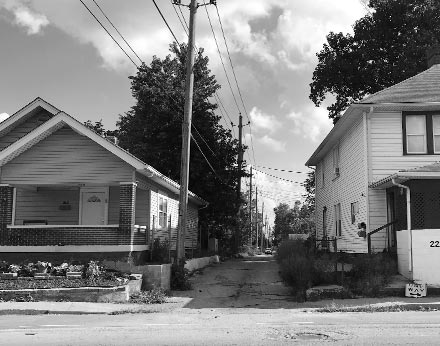 An alley at New York Street and Jefferson Avenue (just south of St. Clair Place) in 1927 and 2018. Typical for homes in the area, the original siding and windows have been replaced with vinyl. The porch on the right hsa been covered in concrete block.
Bass Photo Co Collection, Indiana Historical Society. Matt Nowlin, The Polis Center. View Source
Early Development of St. Clair Place
St. Clair Place was developed on the east side of Indianapolis largely between 1890 and 1920. When first developed, the neighborhood was near the outskirts of the city. In 1898, according to a Sanborn fire insurance map from that year, the city limits were at the Belt Railroad near Sherman Drive, about half a mile from the eastern boundary of St. Clair Place. In 1917, a home at 907 Eastern Avenue was listed for sale at $3,800 (about $74,000 in 2018 dollars). It was advertised as "thoroughly modern" with six rooms and a garage. Population grew to 3,897 by 1940 (according to the U.S. Census).
It is better not to bind your search for a girlfriend to a specific time or place. If you constantly obsess over one thing, you can miss out on a lot of opportunities. The same goes for ways to get a name, get a phone number, make a date or other similar endeavors listcrawler ts dallas. Perhaps the failures in dating women arise precisely because of this unwillingness to be more flexible.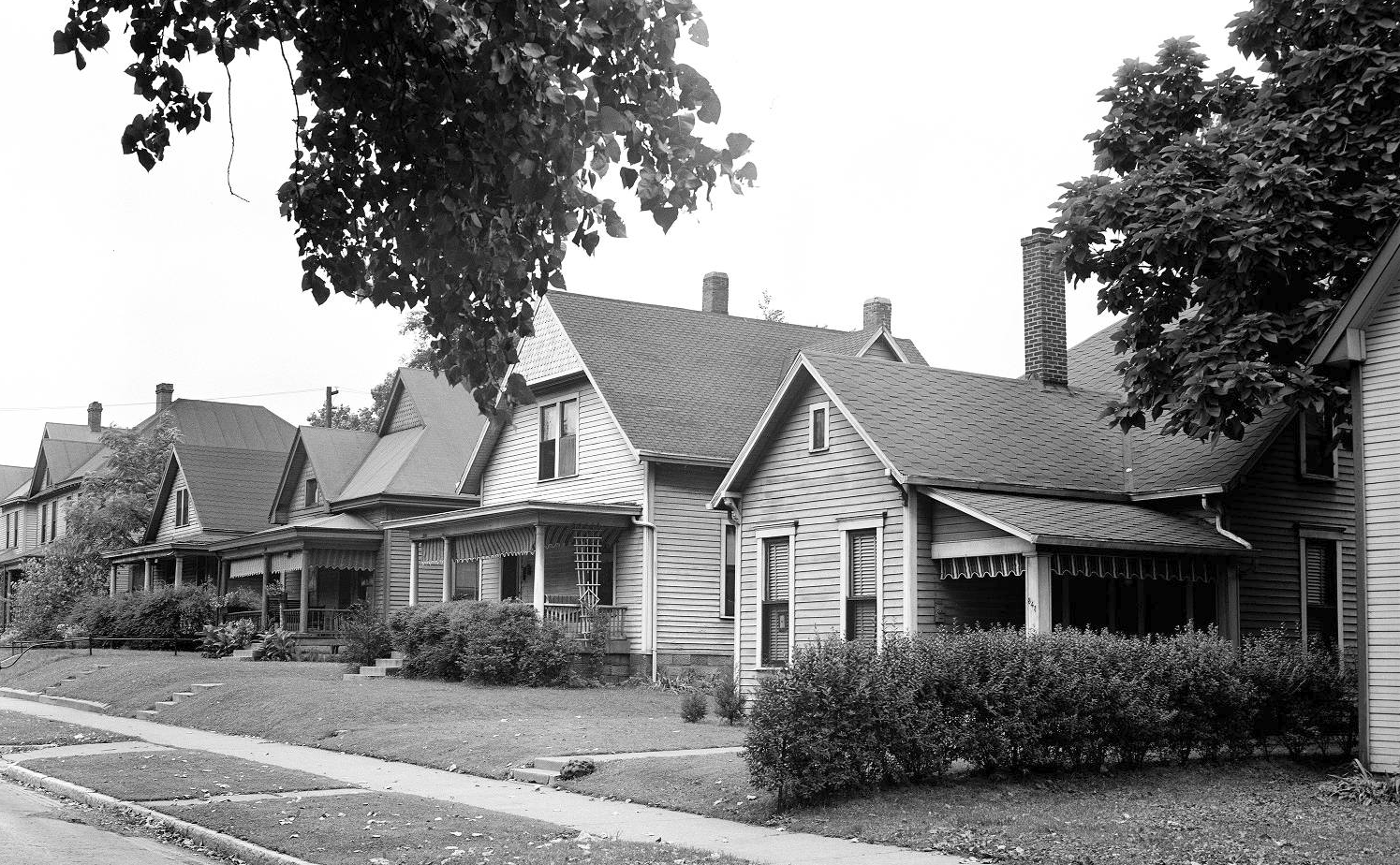 Homes on 300 block of North Jefferson Avenue, 1943.
Larry Foster Collection, Indiana Historical Society. View Source
Neighborhood Economic Change from 1970-2010
In the middle of the twentieth century, St. Clair Place was a white, working-class neighborhood. The average family in the neighborhood earned $48,000 in 2016 dollars, lower than 96 percent of the region's neighborhoods. Educational attainment was also low in the neighborhood. Only one percent of the population had a bachelor's degree. Income in St. Clair Place fell even lower in the next decades. By 2010, the average family earned $21,660 (2016 dollars). Still only three percent of this neighborhood had a bachelor's degree.
The population fell steeply from 1970 until it reached 1,431 in 2010. In 1972, the inner loop of Interstate 65/70 was constructed east of St. Clair Place, reducing the neighborhood's connection to downtown Indianapolis.
At the same time, vacant housing units increased. In 1940, 3.1 percent of housing units were vacant, a slightly better rate than Marion County overall. By 1970, a tenth of homes in this tract were vacant, worse than 90 percent of tracts in the metro area. Almost half the neighborhood was vacant in 2000, which was the second-worst vacancy rate among all tracts in the region.
Since 1940, Population Fell and Vacancy Increased
Population and Vacancy Rate, Tract 3457
Neighborhood Demographic Change from 1970-2010
Starting in 1970, the demographics of the neighborhood changed, growing significantly less white. In 1970, the Tract 3547 was 99 percent white. After 1980, that began to shift dramatically as white residents moved away and black and Latino residents moved in. By 2010, 50.9 percent of residents were people of color. One fifth of the neighborhood was Latino and a quarter of residents were black in 2010.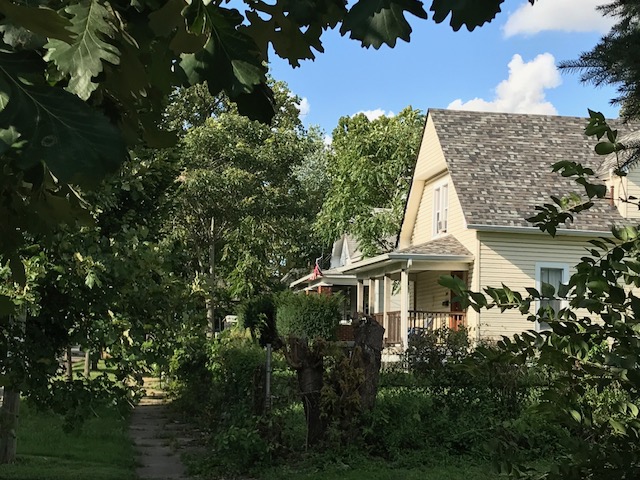 Homes on 300 block of North Jefferson Avenue, 2018. The home in the foreground of the 1943 image has been demolished.
Matt Nowlin, The Polis Center.
Development of St. Clair Place and the Near Eastside
Scroll through the images to see how the Near Eastside changed from 1898 to 2017. The railroad tracks on the eastern end of the map were the city limits in 1898. By 1941, industry had clustered there, near Sherman Drive and Michigan Street. In 2017, much of that industry is now demolished, including the RCA plant. Note the clearance on the west side of the map as Interstate 65/70 is constructed in 1972.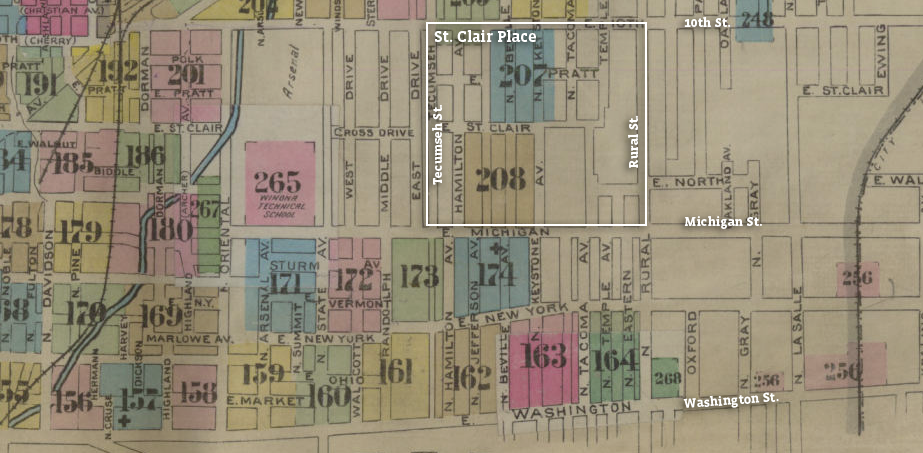 1898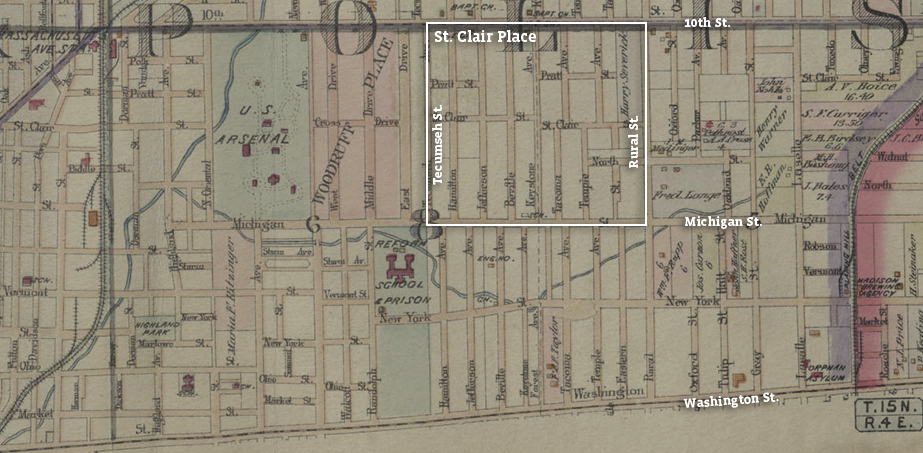 1901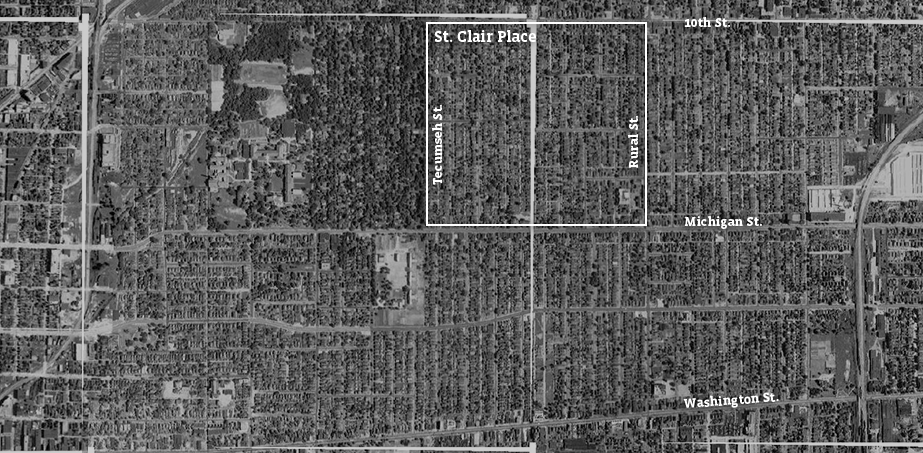 1941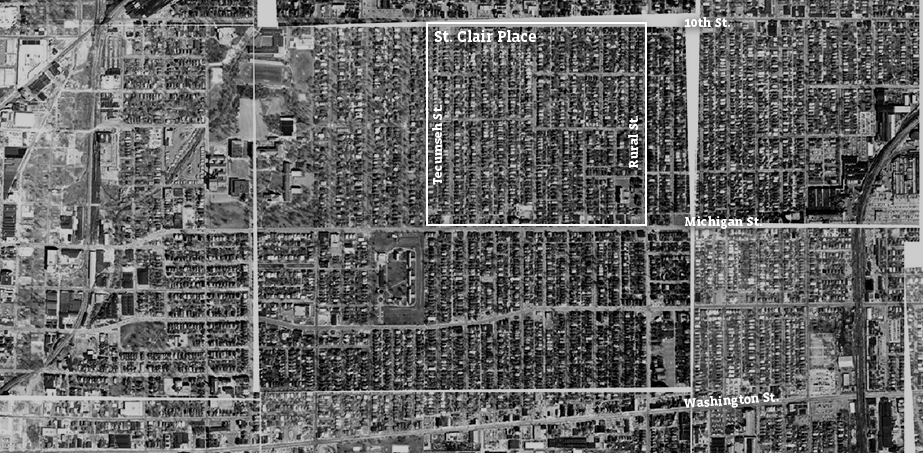 1972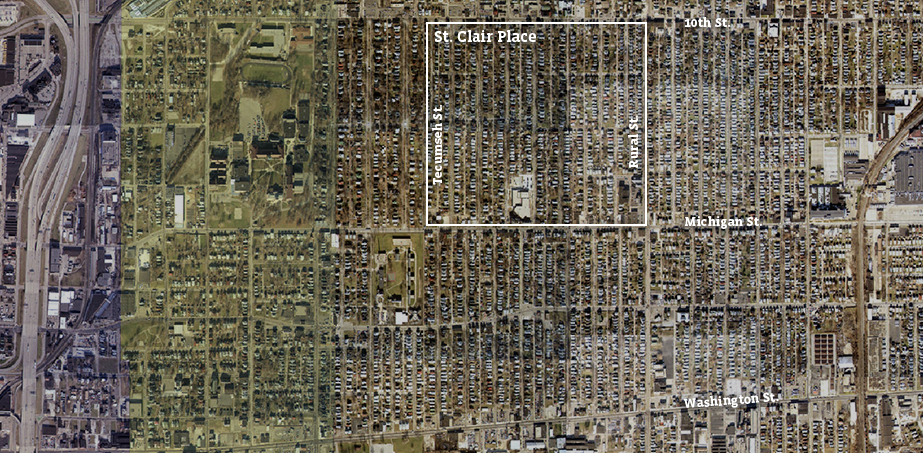 1986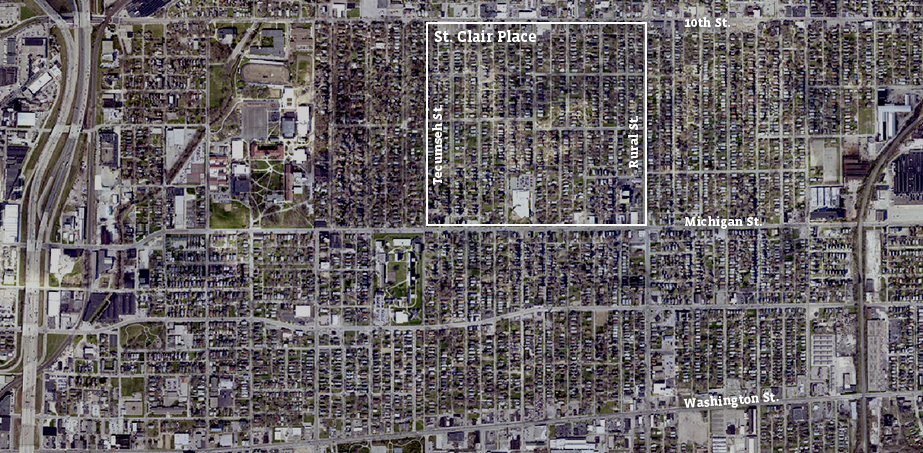 2012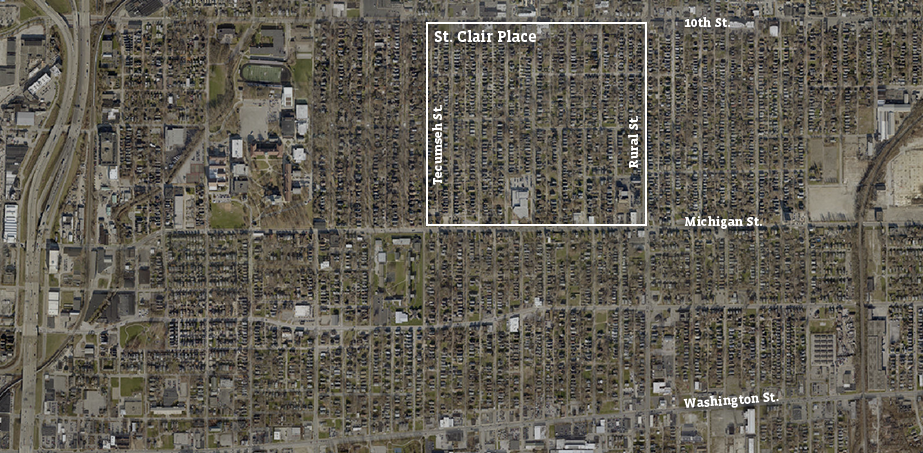 2017
See How Your Neighborhood Has Changed
Find more interactive content from our series on neighborhood change.
No Results Found
The page you requested could not be found. Try refining your search, or use the navigation above to locate the post.